Wondering what to wear hiking in the fall? The fall season is when we're most likely to hike, and it can be a great time of year to get out there. But if you're not prepared for the weather, your hike could turn into an unpleasant experience. Here are some tips on how to stay warm and dry while hiking in the fall.
There's a chill in the air and the leaves are changing colors – it can only mean one thing: fall is here! If you're like me, you're probably itching to get outside and enjoy all that nature has to offer. One of my favorite things to do in the fall is go hiking, and I know I'm not alone. But what should you wear hiking in the fall? In this article, I'll give you some tips on what to bring with you on your next hike and how to dress for the occasion. Stay warm and have fun out there!
5 Tips for what to wear hiking in the fall:
Whether you are going on a multi-day journey or just a quick jaunt up your local backyard trail, there are essentials that I always recommend you bring. However, the time of year you go on your adventure can dictate some customization and specifically when it comes to what to wear hiking in the fall you have a lot of options! Follow my 5 tips below and you will have an enjoyable adventure no matter the scenery.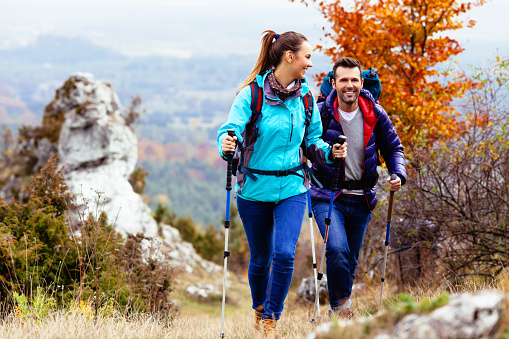 1. Layers Are Important For Hiking In The Fall
It's important to know that layers are an important part of hiking in the fall. It's especially important if you plan on hiking in the mountains or near streams or lakes. You will want to consider how cold it is outside before heading out, and make sure that your layers are capable of keeping you warm enough while also allowing for quick adjustments as needed.
Wearing multiple layers will help regulate your body temperature throughout the day; this means that if it's warm outside, then wearing more clothes won't make things worse! In addition, wearing different types of clothing allows for flexibility when changing conditions—for example: if it starts raining heavily while I'm hiking up a mountain trail (or even just walking along), then removing my outermost layer will allow me access to additional layers underneath without getting wetter than necessary due to quick movement inside those layers.*
What to Wear Hiking in Any Weather! | Miranda in the Wild
2. Choose Your Base Layers Wisely
When you are choosing your base layers, it's important to consider how they will be worn. The best way to do this is by thinking about what weather conditions you'll be hiking in and what type of activity you'll be doing. If your hike will take place during the winter months, wool or synthetic fabrics are generally a better choice than cotton because they don't absorb moisture as readily as natural fibers like cotton do.
If your hike is going to occur during the spring or fall seasons, choose a base layer that wicks away moisture from your body so that it doesn't get trapped between layers and cause overheating on hot days (or cold nights). Another factor worth considering is breathability—choose a fabric with holes where air can flow through easily without restricting movement! Breathable fabrics allow sweat glands in our skin to expel excess liquid while keeping us dry enough so we don't get soaked by sweat before reaching camp at nightfall."
3. Bring A Lightweight Sweater Or Fleece Jacket
If you're hiking in the fall, it's important to keep yourself warm. A lightweight sweater or fleece jacket is a good option for this season because it will help regulate your body temperature and keep you dry on hikes. They also make great layering pieces, so don't forget to bring them along!
4. Wear Leggings For Flexibility
As the leaves start to turn orange and red, many people are gearing up for a hike. And, if you're like most people, you want to be comfortable while hiking. So what should you wear? Well, some people might tell you to wear shorts and a t-shirt. But I think leggings are a much better option. Leggings provide more flexibility and comfort than shorts. And they're also warmer, which is important in the fall. So if you're planning on going hiking in the fall, I recommend wearing leggings instead of shorts. Thanks for listening!
Leggings are a great choice for hiking in the fall. They're comfortable, they can be worn under pants or shorts for extra warmth, and they look good with any outfit. If you want to maximize your flexibility while hiking in the fall, leggings should be your first choice because they allow you to move easily without restricting your movements or wearing uncomfortable clothes that restrict movement.
Leggings are also easy to layer with other clothes, so you can wear them over other layers of clothing when necessary (e.g., if it's cold outside).
Leggings are probably the most versatile piece of clothing you can own. They can be dressed up or down, worn in summer or winter, and are perfect for any activity, from running to hiking. In the fall, when the temperatures start to cool down but the leaves are still changing color, there's no better way to stay comfortable while enjoying nature than by wearing leggings. Here are four reasons why you should wear leggings hiking this autumn.
5. Pack a rain shell.
If you're hiking in the fall, it can be hard to predict when rain might come. But if you know there is going to be bad weather, it is important to pack a rain shell in your backpack. Rain should not be considered an annoyance—it can cause serious injury! A lightweight jacket will keep you dry and comfortable even if the skies open up on your day out on the trail.
You need layers and a rain shell to feel comfortable hiking in the fall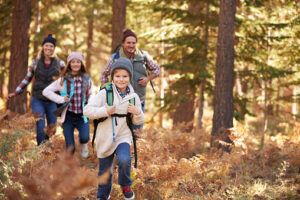 To be comfortable hiking in the fall, you need to layer up. Layering is important because it helps keep you warm and dry while also keeping your body temperature regulated. It's also important that you wear leggings or tights under your pants so that if there are any unexpected showers during your hike, they'll stay dry instead of soaking through your pants.
When choosing what clothes to bring with you on a hike this fall season (or any other season), consider how much weight each item will add to your pack—and whether or not it might end up weighing down the rest of what's inside it when weighed together with all other items in general!
If possible (and depending on where I'm going), I'll often bring along something like this lightweight sweater/fleece jacket combo from REI as well:
Some Frequently Asked Questions:
In Summary
There are a lot of great options out there for hiking in the fall. Make sure to choose your base layers wisely, bring a lightweight sweater or fleece jacket that you won't mind getting wet, wear leggings for flexibility, and pack a rain shell if you live somewhere with rainy weather year-round. And lastly—don't forget about sunscreen! It's important to not only protect your skin from harmful UV rays but also keep it hydrated while outdoors during these months.