If you are an avid backpacker, then you know not all backpacking tents are created equal. 4-season backpacking tents are different than other types of tents because they offer better insulation and protection from the elements. The best four season backpacking tents keep your body warm in cold and even subzero temperatures. If you want to make sure that your next cold-weather outdoor adventure is a success, then it's time for you to invest in a top-rated four-season backpacking tent!
You can find our complete guide to tent camping here >>
What makes it the best four season backpacking tent?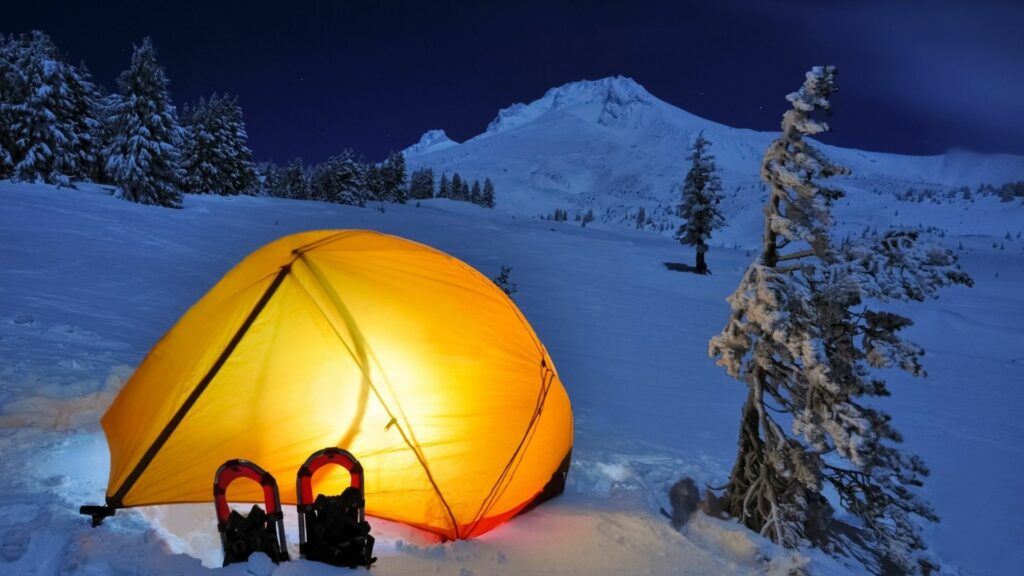 A four season backpacking tent is a type of tent that is specially designed to be used in winter weather conditions. They are made with heavier materials than other tents and are often snow-rated, meaning they can withstand the weight of snow without collapsing. They are also typically more waterproof and windproof than other tents, making them ideal for use in harsh weather conditions.
Typically 4-season backpacking tents are, in general, heavier than most other kinds of tents making them not the ideal tent for backpacking. So in order for them to make the best four season backpacking tents list, we scoured the marketplace to find the lightest weight 4-season backpacking tents out there while still being reasonably priced.
Some things to consider when deciding on the right 4-season backpacking tent to purchase:
Packed weight – weight with everything that came with the purchase. This can be very important the more miles you plan to carry your gear.
Double-walled vs. Single-walled tent: Double-walled tents tent to be warmer overall and keep you and your gear drier but typically are heavier and are more difficult to set up.
Snow weight rating: This is very important a safety consideration to make sure you take into account when choosing the right tent for your future adventures.
Interior tent size: Planning to mainly solo camp or will you be "bunking" up with anyone? Size definitely matters in this case, even if just to keep wet gear away from dry gear after a day of trekking.
If you are planning to go backpacking in the winter, it is important to make sure you have a four season backpacking tent as these tents are designed to protect you from the elements and will keep you warm and dry no matter what the weather throws at you.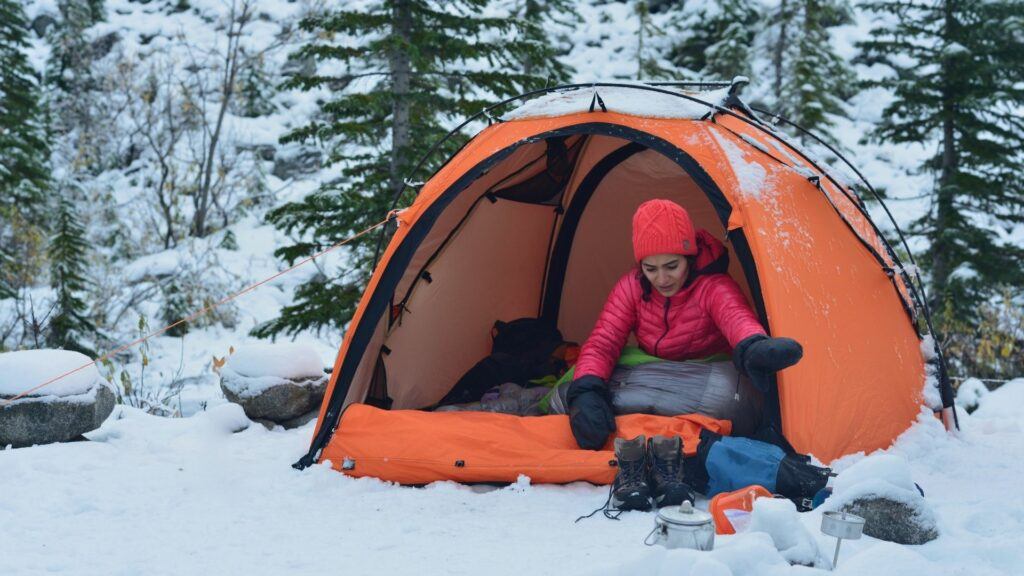 So, what are the best four season backpacking tents? Here are the top five rated tents in the market right now:
(best Rated 4-season tent 2 person)
(Best 4-Season Tent 2 person)
Price: $112.98 – $117.98
Star Rating: 4.5 out of 5
This two-person tent from GEERTOP is a popular choice for four season backpacking adventures. It weighs in at less than 7 pounds and is made with waterproof and windproof fabrics. It has a snow skirt to whisk rain and snow away and a fantastic warranty. Great choice when going backpacking in all kinds of weather and terrain either solo or with your favorite hiking buddy!
【Best Four Season Backpacking Tents for 2 Person】GEERTOP backpacking tent is spacious enough to accommodate up to two people, perfect for couples or single person backpack outdoor travel; Inner tent with the dimension of Inner layer: 78(L) x 55(W) x 41(H) inches; and easily add 2 small vestibules of 24 inches wide when straighten out the tent flysheet, extra space for putting camping gear
【Waterproof 4-Season backpacking tent】Double layer tent for camping – tent flysheet with snow skirt used the rugged 210T anti-tear checkered polyester with high-tech seam taped, up to PU3000mm waterproof level ; Inner tent with mesh offers great ventilation in summer hot weather, great for outdoor travel all year round
【 Simple & Easy to Use】Free-standing 2 aluminum poles design for a lightweight hiking tent, light but sturdy enough, allowing you quickly and easily to assemble or take down; Great for camping beginner or even a child can set up the tent with double wall in 5-8 minutes
【Breathable & Compact】Tents for camping 2 person has two D-shaped double doors with mesh and dual zippers, which provide much better ventilation; Equipped with aluminum stakes and reflective guy lines more stable, to get a high resistance of wind
【Lightweight Backpacking Tent】Ultralight 2 person tent less than 7 pounds, easily pack it in a compact carrying size – 17 x 7 x 7 inches; light enough for bike and canoe camping and short backpacking trips, be great for solo or couple trips, and primitive sights; You can use it on the open beach, or in the shaded woods, free standing, so no worries if pitching in sand, grass or in your living room
【Start Your Trip with a Hiking Tent】GEERTOP camping tents 2 person great for Expeditions, Fishing, Hiking, Kayaking, Car Camping, Mountaineering, or backyard activities, park picnic
AYAMAYA 4-Season Backpacking Tent
(best budget 4-season backpacking tent)
Price: $89.99
Our Rating: 4.3 out of 5
This 4-season backpacking tent is the perfect choice for your outdoor activities. You can use it in summer, spring, fall and winter activities. It is very easy to set up with automatic setup pole so you don't need any extra tool to do that. This tent has two doors so you can easily access inside of it. The vestibules on both side give you extra storage space for your camping gears. And it provides great ventilation when you open both doors at the same time.
This is a Waterproof & Lightweight Backpacking Tent – This tent is made of 3000MM waterproof PU-Coated 210D oxford groundsheet, 2000MM waterproof PU-Coated 190T polyester fabric roof, 190T polyester breathable inner wall with large B3 no-see-um mesh wall.
This is a 2 person Tents with 2 Vestibules – This tent has vestibules on both side that provide extra storage space for your camping gears.
This is a Ventilation Tent with 2 Doors & 2 Top Vents – This tent conveniently built with 2 d-shape doors for easy access and enable direct air circulation when open both of them. 
This is an Easy Setup Tent with Automatic Setup Pole – There's no assemble frustration with this backpacking tent. Special pre-attached automatic setup aluminum pole, durable clips on the inner tent, help you set up or take down the tent in less than 2 minutes.
This is a Double Layer Tent for Multi-function – This backpacking tent consists of: inner tent and outer rainfly. Inner and out layer superpose together as a weatherproof backpacking camping tent for windy or rainy days.
MSR Expedition – MSR Access Lightweight 4-Season backpacking Tent
(Premium – best mountaineering tent)
Price: $559.95 – $759.95 (depending on size)
Our Rating: 4.3 out of 5
The MSR Access Lightweight 4-Season backpacking tent for Winter Backpacking lets you spend comfortable days in the winter backcountry without hauling around the weight of a large mountaineering tent. The robust frame withstands the weight of accumulated snow, and is quick to set up in the cold. Limited mesh on the tent body offers greater warmth on frigid nights, and rainfly vents reduce condensation. It's Easton Syclone poles, made of aerospace composite materials, are made strong and flexible to resist breaking in severe conditions. Ideal for the protected winter conditions found near tree-lines, the tent is quick to set up with its swivel pole hub. 
Ultralight, 4-season backpacking tent, 3-person with hubbed poles make tent quick and easy to set up in cold environments
Tent has 2 doors, 41 sq. feet of floor area with an interior peak height of 47 inches, plus 17.5 sq. feet of vestibule area
Made of aerospace composite materials, Easton Syclone poles resist breaking in severe conditions; limited mesh on the tent body keeps in warmth on cold nights
Rainfly vents reduce condensation; Xtreme Shield waterproof coating for long-term durability; two doors; two internal pockets; multiple guy-out points
REVALCAMP – Waterproof & Windproof 4-Season backpacking Tent
Price: $69.50
Our Rating: 4.4 out of 5
The Revalcamp Two Person Tent is the perfect tent to take on your next outdoor adventure. With a center height of 3'7'' and a floor size of 4'11" x 7'2, this tent will leave plenty of room for two people or extra space if you're hiking alone. They've taken a different approach to the tent. They set out to create a 2-person tent that can be used in three configurations: "Regular", "Rough Weather", and "Ultralight." This is the ultimate solution for both experienced hikers and first timers looking for an affordable tent.
UNIQUE 3-IN-1 TENT – Every time you go hiking, you'll get 3 configuration options to choose from: "Regular", "Rough Weather" or "Ultralight". Choose the set-up that best fits your needs on your next camping trip. Thanks to these options, the Revalcamp 3-in-1 tent is the most versatile tent on the market.
SPACIOUS TWO PERSON TENT – With a center height of 3'7'' and a floor size of 4'11" x 7'2", this tent leaves plenty of room for two people or extra space if you're hiking alone. This roomy tent leaves space for a Full Size (54×75'') air mattress or cot.
WATERPROOF & WINDPROOF – When it comes to camping you don't cut corners. That's why the Revalcamp tent is made with the highest quality weatherproof materials, the strongest stitching, and factory-sealed waterproof seams. A tent you can count on to keep you and your belongings dry.
COLORS FOR EVERY CAMPER – with 8 vibrant colors & designs to choose from, find the tent that's perfect for you. Stand out from the crowd with this revolutionary tent in one of our 8 vibrant colors.
THE REVALCAMP PROMISE – We strongly stand behind the great craftsmanship of our tents. If you aren't satisfied with the quality, size, weight or for any reason at all then just let us know and we'll work hard to make everything right.
Camppal 4-Season Backpacking Tent
Price: $135.00
Our Rating: 4.3 out of 5
We would like to introduce to you this high quality professional four seasons mountain tent which you can count on it where ever and whenever you go for outdoor camping regardless the outdoor weather condition even under the extreme weather. This is a freestanding backpacking tent and is a great choice for those who want a large one roomed tent. This tent has two doors and two windows which makes it easy to get in and out of the tent. The flysheet is made with 5000mm waterproof material, so you don't have to worry about being wet from rain or snow. In addition, the bathtub floor design prevents water from penetrating into your sleeping area. The aluminum poles are strong enough to hold up the whole structure under any weather condition. You can use this tent for backpacking, camping, or any other outdoor activity.
The coating on the outer fly with the water proofing value of 5000mm which is high and good enough to prevent the water from entering the outer fly of tent even under the big heavy rain. Bathtub Floor Design elevates the bottom of the tent to protect you from wet ground.
This tent comes with a gear loft which enables you to organize your personal items inside your tent. Keep your glasses, flashlight, insect repellant and other lightweight gear off your tent floor but safe and within reach. This gear loft attaches to your tent's clothesline rings or loops to become a storage shelf. The gear Loft is the practical and versatile way to keep your small and most essential gear close at hand. It helps to organize your gear on your next outdoor adventure!
The strong aluminum poles construction and the anti tearing rip-stop fabric which greatly help to prevent the hitting and tearing on fabric from the strong wind under the bad weather with big storm which undoubtedly keep you safe and intact inside the tent regardless the change of outdoor weather.
The tent is easy to set up, freestanding allows the tent to be moved and relocated without having to disassemble.
All sewing around the whole tent with seam taped even including four corners of tent, zippers and velcro to ensure the best water proofing.
The floor sheet is an optional accessory which is not included in the tent, but it is available upon request. It is packed in a small carry bag separately which can be purchased separately, the floor sheet is very practical to be used to protect the ground floor of the tent and also can be used as the actual floor sheet when the outerfly is set up separately without the inner tent.
Video on How to Choose Backpacking Tents by REI:
Frequently Asked Questions:
Are 4-season backpacking tents worth it?
It really depends! 4-season backpacking tents are considerably more expensive than 3 or 2 season rated tents and rightfully so. The "fourth season" accounted for in these types of tents are snow/cold(winter). They typically have ratings for the amount of pounds of snow they can withstand as well as wind gust ratings and R-value for warmth. If you plan or anticipate the chance of being in these types of weather while in the back country then a four season tent would be worth the price.
How much does a 4-season backpacking tent cost?
A 4-season backpacking tent is typically more expensive than 3 or 2 season rated tents due to the extra durability and design taken into account for the added wear and tear a 4 season tent needs to endure. With that said when it comes to price there is a wide range within the 4 season rating due to varying factors like R-value, snow rating, wind rating, etc. You can find quality 4 season tents at as low as in the $80 range all the way up to $800+ for Antarctica weather ratings.
How do I choose a 4-season backpacking tent?
In order to choose a 4-season backpacking tent, you really need to understand what backcountry weather you anticipate encountering. Someone who plans to snow camp in Colorado would need completely different tent than someone who plans to camp in the mountains of Alaska in winter and again another type of tent if you plan to scale mount Everest! Bottom line is to figure out what type of 4 season backpacking are you planning on and search out 4 season tents that match your adventures.
Does a 4-season backpacking tent keep you warm?
The simple answer is… yes. But it is a little more complicated than that. Most equipment meant to keep you warm (i.e. sleeping bag, sleeping pad, etc) come with what is called an R-value, or it's Thermal Resistance. The greater the R value the greater the thermal resistance or heat capture. Now a 4 season tent doesn't necessarily come or advertise an R value but instead you will want to check to see if it is single or double-walled insulated. Double wall insulated will do two things, first, it will have an extra buffer between the inner air of the tent and the tent walls keeping more heat from dissipating. Second, it will keep any condensation off you and your gear to also, abet indirectly, keep you warmer.
Is Buying a 4-Season Tent Worth the Investment?
The simple answer is… it depends. Again a 4 season tent is only needed if you plan to be in 4 season(cold wet/snow) weather. For most recreational backpackers and campers, 3 season or even two season tents are just find due to the geographic location they have their adventures or times of year they stick to in their adventures. If, however, you do anticipate being in 4 season weather then you will HIGHLY regret not having a 4 season tent and it can even be dangerous to NOT have one!
What's the Difference Between a 3-Season and 4-Season Tent?
4 season tents are designed with a specific set of features to keep you warm and comfortable during winter. They typically have higher ratings for snow load, strength against wind gusts or low temperatures than other types that only require light amounts before they become fee enough – saving money in the long run!
In Summary
As you can see, there are a lot of options when it comes to the best four season backpacking tents. Not only do they have high ratings from customers and experts, but they also provide all-year protection against any weather conditions at a very reasonable price point. So, if you are looking for a safe and reliable way to backpack in the winter, be sure to check out one of these Best Four Season Backpacking Tents.
Once you found the best four season backpacking tent for you please hit us up in the comments below and let us know what you decided on and how it treated you on your last backpacking adventure!