This page is a dynamic, up-to-date resource for outdoor adventurers looking to tackle some or all of the Colorado Trail. In a state known for its trails, The Colorado Trail is Colorado's premier long distance trail. Conceived in 1973 and completed in 1987, the trail runs 486 miles between Denver and Durango, traversing some of the most spectacular scenery in the state. 
This page will provide you with the latest updates from the Colorado Trail Foundation Blog where they will regularly provide weather and trail conditions throughout the seasons. We will also provide updated trail resource guide books and segment maps both digitally or in a form for purchase physically.
Make sure you bookmark this page to regularly come back to as you continue your adventures on the famous Colorado Trail.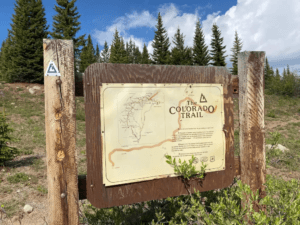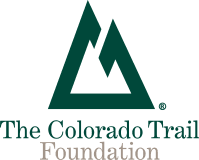 Latest 10 Updates from Colorado Trail Foundation
Check out the 10 latest updates from the Colorado Trail Foundation blog feed where they post important information around segment trail conditions and closures, inclement weather potential, food storage reminders, and so much more!
The Colorado Trail Foundation is a 501(c)(3) nonprofit corporation funded by private individuals, companies, foundations, and the U.S. Forest Service. It is overseen by an elected Board of Directors tasked with creating a vision for the Trail, with short- and long-term planning to achieve those goals, and with ensuring that the Foundation is financially healthy. It employs three full-time employees: an executive director, field operations manager, and office manager.
The mission of The Colorado Trail Foundation is to provide and maintain, through voluntary and public involvement, and in cooperation with the U.S. Forest Service and federal Bureau of Land Management, a linear, non-motorized, sustainable, recreation trail between Denver and Durango. This trail will provide multi-day, inspirational, and educational values keyed to the diverse, high mountain, natural environment.
The Colorado Trail Foundation has been improving and maintaining The Colorado Trail since it was connected end to end in 1987. Before that, starting in the 1970's, their volunteers built the Trail. The CT Foundation organizes the volunteers that make it happen. The Colorado Trail is one of the best-maintained long trails anywhere.
Check out our Backpacking guide for what to pack on your next adventure on the Colorado Trail >>
The Colorado Trail Foundation Feed:
(Courtesy of the Colorado Trail Foundation)
Adopters do important work in their sections of trail, which range from 1.6 to 16.8 miles. Some do the work alone and some assemble a group for the outing. Visiting as soon as they can after the snow melts in […]

Updated October 5, 2022 – WATERTON CLOSED October 10-13, 2022 Weekday access to Waterton Canyon will be closed Monday, October 10 through Thursday, October 13 for work by Aurora Water.  Neither the parking lot at the canyon's entrance nor the […]

Summary 2022 CTF Crew Accomplishments  –  19 Trail Crews One trail crew and team leader training Four new crew leaders trained Four new cooks trained 187 volunteers (including crew leaders, cooks, trail workers, Operations Manager, etc.) 5633 volunteer hours contributed […]

Summary 2021 CTF Crew Accomplishments – 17 Trail Crews One trail crew and team leader training 229 volunteers (including crew leaders, cooks, trail workers, Operations Manager, etc.) 7,610 volunteer hours contributed Three bridges constructed or repaired Avalanche debris cleared from […]

Summary 2021 Adopt-A-Trail – In 2021, CTF Field Operations Manager Darin Radatz continued managing the Adopt-A-Trail program. Radatz lead three training sessions for Adopters. During his year of leadership, 54% of current Adopters have attended a training session. Trainings focused […]

Copper Mountain Resort is doing some snowmaking repairs that will impact the safe travel across Segment 8 of The Colorado Trail. Segment 8 trail closure and detour scheduled for the week of August 8-12.  Because of this work, this part […]

From August 1 through August 5, a trail work project that will involve ATVs, trucks, and tractors will be taking place between the Marshall Pass and Silver Creek trailheads (click here to see a map of the work area). Motorcycles […]

As a result of unconfirmed reports of active bears in the area, the South Platte Ranger District has asked us to remind all Colorado Trail users to please use food storage when on the trail at all times, and specifically […]

Bill Manning here with a message that tugs at my heart: I will soon be departing as Executive Director of The Colorado Trail Foundation. This decision has been brought on by both my age, 67, and my ongoing fight against […]

2022 Maildrop – Consider UPS-Brown or FedEx If you are planning to ship yourself any resupply boxes this trail season, consider sending them UPS-Brown or FedEx. (Not USPS.) Reports from maildrop locations are that boxes being sent via the United […]
Colorado Trail Resources
We want to make sure you get as much information as you need to have a successful adventure on this amazing trail. Below you will find updated resources that you can use to make your segment hikes safe and enjoyable! Be sure to check out the feed above and the resources below regularly as the information changes regularly to make sure you are kept in the loop as you start or continue your Colorado Trail adventures.
We have broken up the trail segments into three distinct sections: Upper segments, Collegiate Peaks Segments, and Lower Segments. In each section you will find a multitude of links, resources, and guides for each segment to make sure you feel as ready as possible to tackle each one.
Each segment map on this page is dynamic and can be manipulated without ever having to leave our site so feel free to play around with them and get a good feel for the segment's direction and elevation variation as you traverse with your mouse!
Upper Colorado Trail Segment Guides (Segments 1-10)
Colorado Trail Segment Guides: 1-10
Collegiate Series East vs. West and Collegiate Loop
As you come to do your research on the Colorado Trail you I am sure have heard or are hearing now about the Colorado Trail Collegiate Peaks Series of segments. The traditional route for the Colorado Trail, and hence the sequential segments numbers following the upper segments, is the Collegiate East section. It consists of the southern part of segment 11, all of segments 12, 13, and 14, and the northern part of segment 15.
Collegiate West on the other hand consists of five segments that coincide and are part of the larger Appalachian Trail. Those segments are:
The first major expansion of The Colorado Trail since its completion in 1987 came in 2012 when approximately 80 miles of the Continental Divide National Scenic Trail on the western side of the Collegiate Peaks were added to the CT's total mileage, increasing it (altogether) from 485 to 567. The result is a spectacular alternative to the CT's original route on the eastern side of the Collegiate Peaks.
The Collegiate Peaks Loop
If you're looking for an epic adventure, consider hiking the CT Collegiate Loop. This 160-mile circuit takes hikers through the spectacular scenery of the Collegiate Peaks, including direct access to fourteeners like Yale, Princeton and Huron Peak. The best part? You can park your car at any point along the route and simply hike back to it when you're finished.
The Loop begins at Twin Lakes Reservoir, southwest of Leadville. From here, hikers can choose between the East or West routes of the CT. The East route skirts the northern edge of the Sawatch Range, while the West route crosses over Monarch Pass and into the San Luis Valley. Both routes offer beautiful views and plenty of opportunities for exploration.
If you decide to start from the South Junction (Fooses Creek Turnoff) south of Monarch Pass, you'll have to make a decision: which route should you take? If you're looking for a challenge, head east up Mount Yale. If gentle slopes are more your thing, try heading west towards Huron Peak. No matter which route you choose, you're sure to enjoy gorgeous mountain views along the way.
Check out the All Trails Map Details for the Collegiate Peaks Loop Here >>
Collegiate Peaks Series East (Segments 11-15)
Colorado Trail Segment Guides: Collegiate East 11-15
Collegiate Peaks Series West (Segments CW-01:CW-05)
(Map data is limited from All Trails for these segments at this time. We will update as soon as they come available. For now we have the Collegiate loop integrated into each segment map)
Colorado Trail Segment Guides: Collegiate West 01-05
Lower (Southern Colorado Trail Segment Guides (Segments 16-28)
Colorado Trail Segment Guides: 16-28
Invaluable Resource Material: A Must Buy
More convenient and easier to use than folded maps, but just as compact and lightweight.
National Geographic's Topographic Map Guide booklets are printed on 'Backcountry Tough' waterproof, tear-resistant paper with stainless steel staples.
A full UTM grid is printed on the map to aid with GPS navigation.
Conclusion: Bookmark and Check Back Regularly
With a wide array of information coming in on a regular basis around the trail segments and updates to the resources and guides, it is imperative that you bookmark this page and come back frequently to get all the information you need to have a successful adventure out on the Colorado Trail.
Have you completed any of the Colorado Trail segments yet or even completed the whole thing? Please let us know your experience on this challenging yet beautiful hike through the heart of Colorado backcountry.
Interested in Learning more about Tent Camping? Check out our tips and tricks here before setting out on your next overnight hike >>